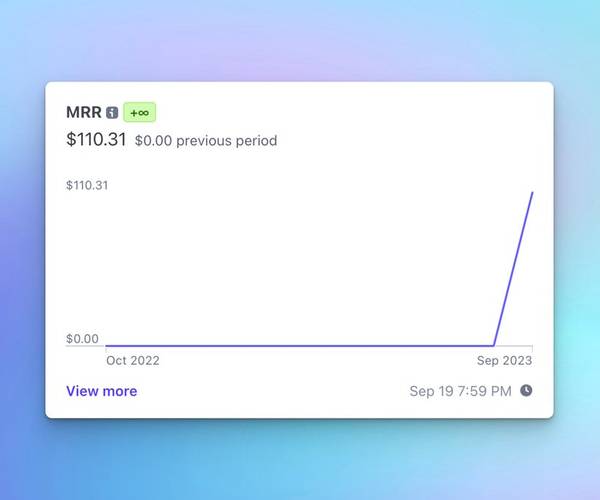 Sure, it is ridiculous compared to other big apps, but I'm proud of it!
It's a necessary step toward something bigger.
What I did
First, I focused on having the lowest possible friction at launch. I only added a one-time payment (one year pass), with the cheapest price I could.
The landing page required only one click to purchase. No signups, no redirect, just one click that sends you to Stripe.
I spammed every directory I could find to get some traffic. I ended up getting featured in a few media & a huge telegram channel that got me consistent traffic (see my previous post in my "Highlights" tab)
I only focused on getting more traffic until I got consistently 2-3 sales every day. 💸
Then, I switched from one-time payments to a subscription model and raised the prices.
Sales took a massive hit from that, from $150/day to $0 🥲
But it was necessary to grow the app. Recovery is super slow, but now I have recurring revenues.
💡 The strategy is to start with as little friction as possible to test the market, and push more to see how far you can go until you find the "balance point" between volume & price
My goal is to reach $1000 MRR within the next 6 months.
Going to add more channels to bring traffic, add a new plan based on requested features, and just try a bunch of things.
As always, I'll post (almost) everything publicly.
The (bad) behind the scenes
Those last few weeks were the hardest since I started my Indie-making journey. 😵‍💫
I got badly depressed by the lack of progress after removing one-time payments.
There were days I didn't even want to get out of bed because it felt like crap 🥲
The #1 thing that helps me go through it is to do at least ONE little thing per day:
Write one post
Add one tiny feature
Fix one bug
I couldn't focus more than that, so the rest of the time I played video games with indie hacker podcasts in the background.
I constantly doubted, not knowing if I should keep going or move on to another project.
Shipping lots of products as I did is an amazing experience to learn & test the market, but I want to try something different.
I'll see how far I can grow this little app starting from zero 😁